LG was present at Mobile World Congress, just like Huawei, but the company hesitated to show the ace in their sleeve. Instead of bringing up the next flagship phone, G7, LG focused on V30S ThinQ with AI. A great device, of course, but not the one we were waiting for. The star of their line, G7, did show up in the wild this week, though #mobilemagic
Ynet managed to take a peek at the next premium phone to come from LG's hands and – surprise, surprise – it bears an iPhone X notch. The phone comes with a 6-inch screen and three cameras: an 8MP selfie shooter and two 16MP rear cameras, one with a F/1.6 lens aperture and optical stabilization, while the other one has a F/1.6 wide angle lens aperture.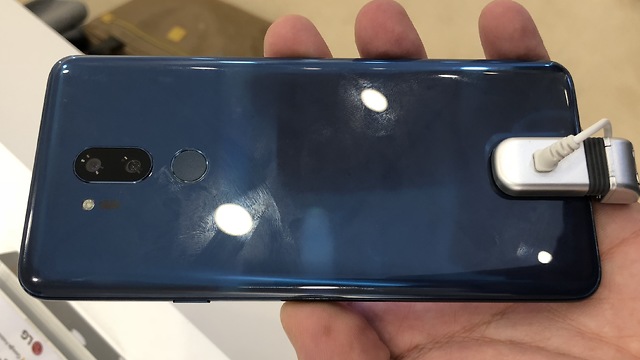 As a 2018 flagship it runs on Snapdragon 845 chip with 4GB of RAM and at least 64GB of internal memory. Both of them will probably see a boost for the "plus" model. The battery is nothing too wild though, LG apparently going with a 3,000mAH cell.
We saved the best for last. The real selling point here is the display. According to Ynet, LG has managed to develop an OLED screen for G7 with a 19:5.9 screen ratio and… wait for it… 900 ppi! We're talking about a huge pixel density for a mobile screen, unlike anything else out there. Sony Xperia XZ Premium showed off a 801 ppi screen last year,  but since then no other flagship phone dared to come even close to that level.
Currently, iPhone X has a 5.8-inch OLED screen with 458 ppi, Pixel 2 XL sports one with 538 ppi developed by LG Display and Galaxy S9 has debuted at MWC 2018 with a 570 ppi Quad HD + Super AMOLED screen. See our Samsung S9 hands-on here!
That's not all. LG G7 will sound better than ever before, revealed the publication. The phone will use DTS:X sound technology and Boom Box, a new feature that allows the speakers to play audio louder when place on a surface. Just like LG V30S, G7 will make use of AI for the camera and come with Google Assistant.