The Philips Momentum 436M is a gorgeous new monitor, balancing powerful display with immersive sound. Incorporating some of the best technology out there, the display of the 45″4K HDR monitor offers unparalleled contrast and color accuracy while the sound utilizes a DTS audio solution to create an immersive sound experience.
For starters, the monitor is the first display to pass the VESA DisplayHDR 1000 certification, the highest DisplayHDR certification possible, thanks to both Quantum Dot and Ultra Wide-Color technology.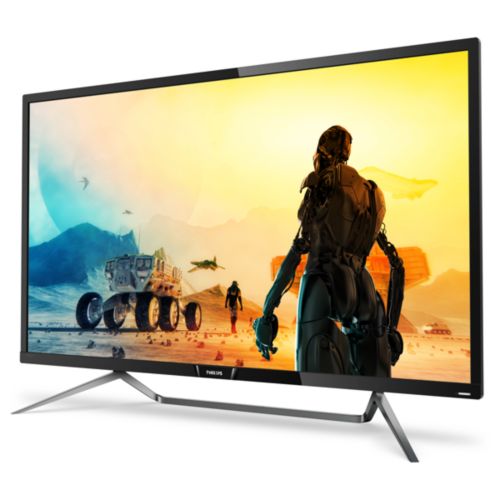 Source: https://www.philips.com.sg/c-p/436M6VBRAB_69/momentum-4k-hdr-display-with-ambiglow"The Momentum 436M6 features Quantum Dot Color and DisplayHDR 1000 for a wider range of more accurate colors – especially dark reds and greens – that stay crisp and clear even in bright light.
DisplayHDR 1000 delivers a dramatically different visual experience. With a peak brightness of up to 1,000 cd/m2, incomparable contrast and captivating color, images come to life with much greater brightness while also featuring much deeper, more nuanced darks. It renders a fuller palette of rich new colors seen on the display," explains EPI, the company that licenses the production of Philips monitors.
The display also utilizes Ambiglow technology. While not a world's first, it still enlarges your visual field and immerses you more fully into the visual experience by creating a halo of light outside of the screen. It is responsive to the colors on the screen, adapting to both the nuances and brightness of the image or video on the display. 
The immersion doesn't simply end with visual feedback; with DTS Sound, the Philips Momentum 436M also creates an immersive virtual surround sound experience. In addition, DTS Sound "restores the rich detail lost during the compression process," giving you higher quality sound.
Priced at $999.99, interested buyers should expect a summer launch.