"What would you put in a computer, if you had the chance to create it?" – that's the question start-up Eve Tech Finland asked people all over the world. More than 1000 end users answered and at the end of their online collaboration, Eve-V 2-in-1 was born #hardwaremagic
Project Pyramid Flipper was the codename for the crowd developed project. During the brainstorming and testing, Microsoft and Intel supported the team with R&D resources, device testing and debugging facilities. The finished product is now equipped with Intel 7th Gen Core i7-Y (up to 3.6GHz) and works with Windows 10 Home or Pro. 
How about the rest? This is what users dreamed of when designing Eve-V:
12.3" IGZO 2734×1824 LCD display with Anti Reflection coating (1:1400 contrast)
16GB RAM LPDD3
512GB SSD
quad speakers, audio jack amplifier by TI
12 hours battery life, 48 watt-hour battery
Thunderbolt 3 USB-C charging port, 2 USB-A + 1 USB-C 3.0 ports
0.89 cm thick aluminum unibody
wired/wireless Bluetooth 4.2 keyboard
V Pen, Windows Ink certified
fingerprint reader, hidden under power button
Sounds pretty damn good, right? To make things better, Eve-V looks super sleek and comes at a great price: $1399 or $699 for an entry-level version (Core m3-based Eve). For comparison with other top-notch devices on the market, check this spec sheet out: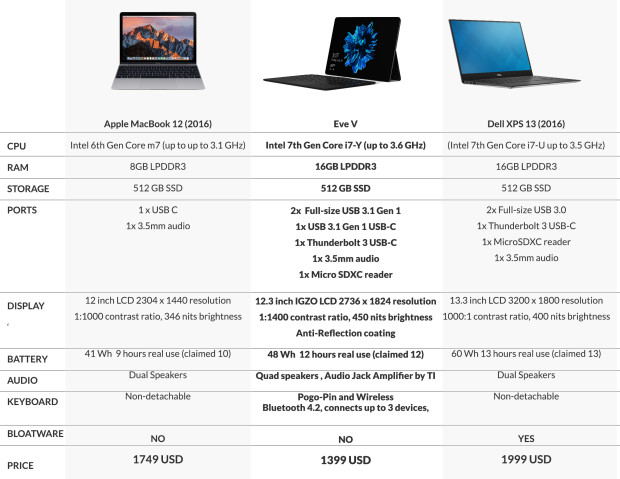 Eve-V crowdfunding goal of $75.000 was quickly achieved and at this time of writing, the total raised on the platform is $1.115.766! Eve-V is currently sold out on the site but you can reserve a hybrid computer that will ship next year, beginning with January.