Lenovo Legion Phone Duel was just announced and boy, oh boy, does it look like a gaming phone! With a surprising front shooter, it's a clear contender for the top position of our best gaming smartphones in 2020. However, ASUS is also showing off its ROG Phone 3 today… who will get the crown?
Lenovo and ASUS decided to do a… well not a joint announcement, rather two separate ones in the same day. Lucky us! This means we've got a rare opportunity to compare and contrast.
On one hand, Lenovo Legion Phone Duel is their first mobile device from the Legion series, dedicated to gamers. It's got the edgy design most premium gaming phones out there have, like the ROG Phones and the Black Sharks of the mobile world.
With a weird exception… at least at first glance. Two cameras on the back, dead center (a 64+16MP combo). Why would Lenovo shift their main cameras from the upper part of the phone? It doesn't make any sense. At least, when you're holding the phone vertically. But here's the catch – this phone is meant to be used in landscape mode.
Both one USB-C port and the selfie camera are now on the side of the phone! Indeed, the company put a 20MP pop-up front camera with an f/2.2 aperture and an 81.7-degree field of view in a way that would make sense for gamers using the phone as they would a Switch. There's also a status light for the camera, as you'd find on most laptops.
Is this new location awkward for taking selfies? Time will tell, as users will certainly give Lenovo plenty of feedback.
Because we're talking about a Lenovo Legion made for landscape gaming, of course there are two front-firing speakers. Users should get spatial audio when playing, along with haptic feedback thanks to dual vibration motors.
They're saying these will be the most powerful speakers out there but I say, let's wait for ASUS. If you remember, they bet on this feature already and should be ready to defend their position this summer, so expect audio performance on the ROG Phone 3.
Unlike some fictional trains on Netflix, these phones don't have an eternal engine. And nothing ruins the mood as a phone dying on you mid-battle.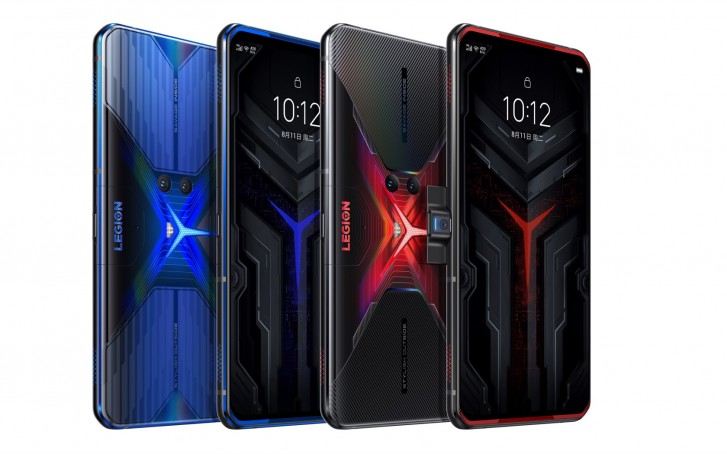 So, Lenovo Legion gaming phone has bundled up with a 5,000mAh cell split in two 2,500mAh parts. The size itself may be impressive, but without fast charging, we'd go crazy. That's why Lenovo took pity on us and came up with a 90watt – 90! – Twin Turbo system. They're saying you could go from 0 – 100% battery in half an hour by plugging USB-C cables into both ports. ASUS Rog Phone 3 is expected to come back with their 6,000mAh monster battery and that might impress you even more.
Both Lenovo Legion Duel and ROG Phone 3 will run on the Snapdragon 865+ and support 5G networks. Lenovo's phone, though, boasts ultrasonic touch-sensitive sensors (instead of physical buttons) that will basically serve the role of controls for your mobile games.
Another thing the two have in common is the 144Hz refresh rate screens, which is still an amazing achievement display-wise.
Just like the Vivo X50, the phone isn't coming to US yet. This month, it will become available in China and later, in select markets in Asia, Latin America, and the EMEA regions (Europe, Middle East, Africa).
As far as price goes, the Legion Duel will be available for pre-order later today with the entry-level 8/128GB variant going for CNY 3,499 ($500). The price range reaches CNY 5,999 ($857) for the top of the line version with 16 GB RAM and 512GB.
Is it enough to pull you away from ASUS' 2020 gaming phone? That's for you to decide but only after you check our ASUS ROG Phone 3 coverage here: