Did you ever postpone trying something different only to then discover it's the best thing that could've happened to you?
I did just that with the Modius SLEEP.
First, a bit of context. Modius SLEEP is the newest product from Neurovalens, the company behind Modius SLIM. If you remember, that slimming headset was a roaring success so Neurovalens took those principles and tweaked the recipe to create a similar gadget for people that have trouble with sleep.
I was one of the first few to receive a prototype unit. It looks exactly the same as the SLIP one only its goal is to make you fall asleep faster, sleep better and wake up more refreshed. The final product comes in navy and was refined a bit to follow even more closely the shape of your head.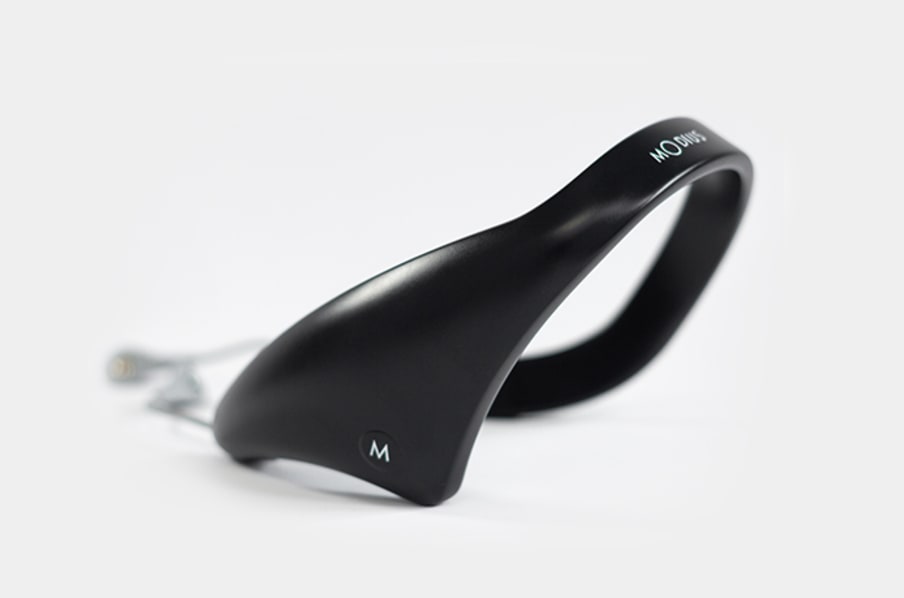 Why did I postpone the test?
Zapping your brain to put you to sleep quicker was an interesting idea so I couldn't wait to start testing it. But a couple of days passed and the package remained unopened. I was startled to find out the idea of putting electrodes, willingly, on my skin was terrifying a bit. I was reluctant to try it out, especially when all of my sweet colleagues were making jokes about how I'd wake up the second day with my brain rewired, squawking like a chicken.
Obviously that didn't happen (…as far as I know.)
Postponing the review didn't last long. Not with the holiday season coming up and CES approaching. My work schedule was getting hectic, while my folks were asking about Christmas plans and my shopping list was steadily growing.
So I tore the package open to find not only the device, but its accessories, too. I was sent Modius SLEEP with a couple of bags of electrode pads, charging cable, cleansing wipes and instructions.
The device itself came in a black case and was pretty lightweight. Besides its cabled handles, it has a spot for USB charging and a power button on the right side. But before I'd switch it on, I had to download the companion Modius app.
Device and app installation
After signing up, I had to put in some personal data about me, like age, gender, height and weight. Then comes a step-by-step tutorial on using the headset, starting with the cleansing phase. To make sure the electrode pads attach securely, you have to clean the area behind your ears and brush any stray hairs aside.
Arranging the headset is extremely easy. It doesn't slip as I feared and it doesn't weigh more than a pair of headphones. In a short time, I didn't feel its weight anymore. Then, I attached the electrodes like in the tutorial and cringed at the thought of removing them afterward (it's not painless, so you know.)
After pressing and holding the power button for 4 seconds, I heard a long sound and watched as the headset connected to the Bluetooth on my phone and paired. This process is almost instant and without hitch.
How does wearing it feel?
Now, for the hard part – letting those electrical pulses into the vestibular nerve so they can reach the hypothalamus and influence my sleep patterns. I didn't know what I expected those to feel like but the slight tingling, pinching sensation took me by surprise and made this feel so much more real.
Thankfully, the sensations are described on the app so I knew the Sleep headset was doing what it was supposed to. To tune it correctly, I was asked to increase the power level of the device from the app until I could feel a "gentle rocking sensation".
For the initial three times, I didn't feel any difference and I was trying hard not to let my own eager self influence the result. Finally, at level 4, I started feeling like my head was swaying from side to side. It wasn't a dizziness per se; I felt like a baby, rocked to sleep, believe it or not.
That feeling continued steadily for the next 30 minutes, the recommended amount of time to wear the device before going to bed. Towards the end, my eyes fell shut and I was lulled into going to sleep.
The next morning, I saw the app keeping track of the period I had worn the device.
What were the immediate effects?
For the next two weeks, I tried using the device every single night. The first thing I noticed – sleep did come faster. My body felt relaxed and heavy in a way, almost begging me to fall into the mattress.
My anxiety had not disappeared, in the sense that I was still keenly aware of the next days' tasks but I was no longer waking up once every hour to think about them.
Just as I was getting results, we had to leave for CES and I left Modius SLEEP at home (afraid I'd oversleep this time!)
However, I started using it again as we returned from the States, when the jet lag turned into falling asleep at 3am and waking up four hours later. Or again, waking up two or three times per night, usually plagued by bad dreams.
Is Modius SLEEP worth getting?
Turns out, Modius SLEEP works great when you're jet-lagged too! In a week and a half, I was falling asleep at normal hours and stayed that way for at least 7 hours straight. I'm now writing this after a full night's sleep, wide awake and refreshed instead of groggy and caffeinated.
Modius SLEEP worked when I was too stressed out to sleep and on a different time zone. One thing to note: I did try to go directly to sleep after using it, bypassing Instagram, drinking coffee, reading on my Kindle and other activities.
It's also worth noting I do not suffer from chronic insomnia so I can't really say how well this product does for someone with more serious sleep issues. But if you're going through a rough patch, you're in a constant state of anxiety and can't or don't want to use medicine or herbal cures to fall asleep, this gadget will do the trick.
At the moment, Modius SLEEP is selling on Indiegogo for $399, with units being shipped in May. Let me know if you have any questions regarding the product in the comment section below!