Reusable, cotton pads, stainless steel straws, deodorant bars – there are so many ways to reduce waste today, opting for a sustainable life but you're still getting warmed to the idea? One beauty brand has your back. Beiersdorf just launched the first refill shower gel station for brand Nivea.
Understanding users have a loyalty to the brand and its products but still want to reduce plastic waste, Beiersdorf turned a concept into reality this year.
A refill shower gel station prototype will be in DM stores in Hamburg and Ettlingen, Germany in the months to come.
The station is more than just a branded shower gel dispenser. The machine has a scale to control filling, several Nivea shower gel "flavors" that flow through sophisticated pumps, LED lights that give feedback to the customer, a bar code scanner and of course, the refillable bottle itself.
Yes, the team thought of that, too. "[…] With regard to sustainability we decided to use recycled PET for our refill-bottles. therefore, the consumer will not only experience the idea of reusability when participating in our pilot project but will also be part of a recycling loop, as we will recycle the returned bottles again after the test phase.", said Marta Suslow, Concept Designer at Beiersdorf's packaging department.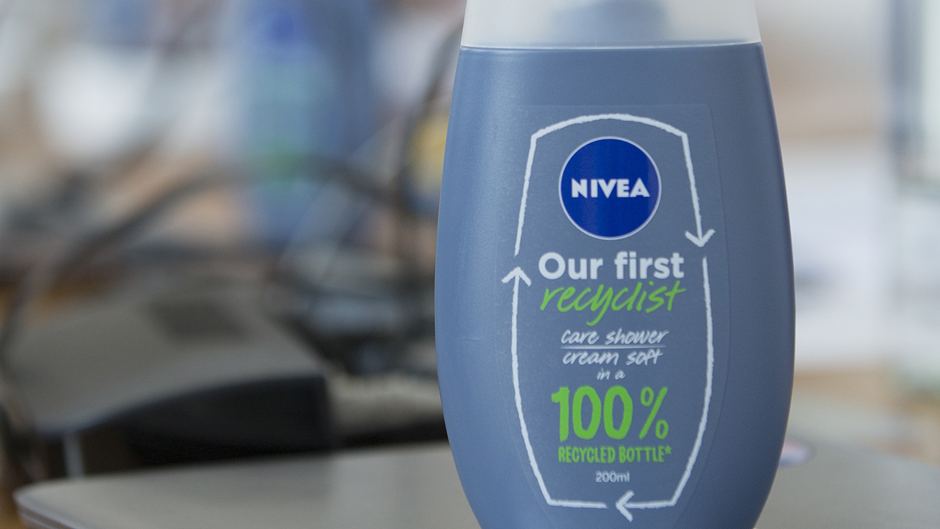 In-house 3D printers were used throughout the process, which also implied some substance testing. Not all Nivea formulas were approppriate for this machine, so not all of them will be available at the refill station, explained Caroline Zia, Senior Formula Developer at Beiersdorf:
"We had to identify the best possible scenario for the consumer and for sustainability. Not all formulations are suitable for such a concept. the formulations need to withstand the additional burden of refilling and we had to carefully choose our products after extensive internal testing. Also, the machine had to be programmed for additional cleaning protocols."
If you're curious about the new Nivea station, you have about 8 months to check it out, which is the testing period Beiersdorf has established.