Samsung's rumored decision about taking off the home button and putting the fingerprint sensor on the back of the phone gave Apple quite a few ideas. It seems that the manufacturer is going with "virtual buttons" and an edge-to-edge design for its next device, presumably the iPhone 8 #mobilemagic
Ming-Chi Kuo, an analyst for KGI, is convinced this fall's iPhone will no longer feature the Touch ID sensor through the Home button. In fact, he believes Apple will introduce a 5.8-inch OLED screen (2800 x 1242) on iPhone 8 with 5.15-inch useful screen size. This new design means the virtual buttons will be located at the bottom of the smartphone on a "function area" similar to the one you've already seen on the MacBook Pro. This area will modify and adapt according to the user needs and behavior.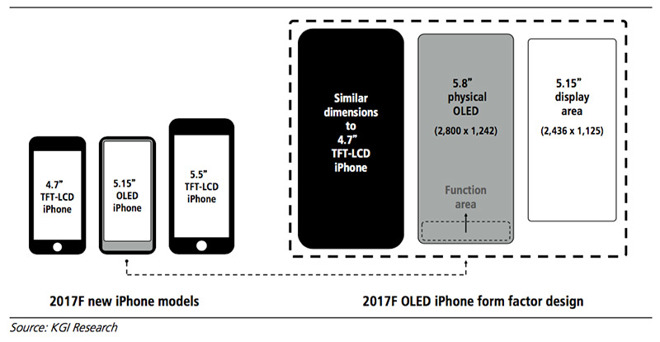 This rumor comes at a time when sources from Apple Insider  report that the company has also patented display technology that's capable of analyzing fingerprints without needing a dedicated sensor. By using a micro-LED sensing technology instead of active matrix hardware, future iPhones could authenticate a user from a simple display, without relying on a sensor underneath the drive ring anymore.
Micro-LED display technology appeared a decade ago, but hasn't been used in mass production yet. This tech doesn't need a back light to illuminate pixels like LCD, producing light by itself in each tiny LED subpixel. In its patent, Apple used technology invented by LuxVue, one of the companies it acquired in 2014, and whose process was said to deliver nine times brighter screens than OLED and LCD. 
Now, this fall, Apple might try to celebrate 10 years of iPhone history with an OLED device but the micro-LED is definitely in their future plans. All of this, of course, leads to the hypothesis that iPhone 8 will sport a larger screen-to-body ratio and possibly integrate a two-step authentication system.