Finally, Microsoft disclosed the specs of the exciting Xbox Scorpio. The company teased it as "the most powerful console ever" and if you take a look at the spec sheet, you'll see why #objectmagic
Microsoft decided to take the wraps off Project Scorpio for Digital Foundry. The exclusive preview of their next console revealed amazing specs, as Digital Foundry stated: "a first in terms of early access to key system architects, and one of a kind in terms of timing". While the hardware is their main selling point, Microsoft wants to dazzle its fans with more than that, writes Foundry: "it's about pushing the quality of console design to a new level – in all areas."
We'll have to see that on our own this fall, when Xbox Scorpio launches for a yet undisclosed price. Until then, check the remarkable build for the console: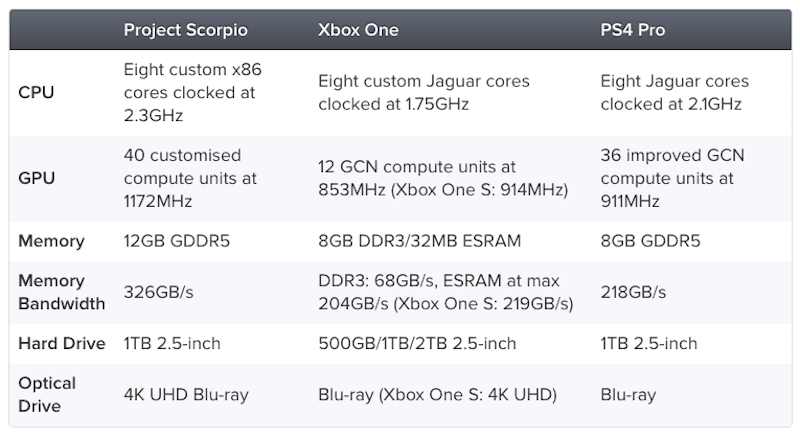 The sheer, raw power of Scorpio surpasses every other offering on the market today. Microsoft worked with a custom GPU, designed for today's gamers' necessities in mind. This was paired with 12GB of fast GDDR5 memory and a custom eight-core CPU. The Scorpio Engine was designed in collaboration to AMD with the goal to allow the console to play games of 900p and up at the new 4K. It comes with 40 Radeon compute units at 1172MHz, a lot more than what Xbox One and PS4 Pro are giving now. Every single processor of the Scorpio Engine "is going to have its own power profile", reveals Digital Foundry. To achieve that, the company tailored the voltages for each of the chips so no power is lost and then, turned into heat.
Every single spec is worthy of attention of course and if you take every detail into account, you might come at one conclusion – that we're getting a new console generation, despite the fact that Microsoft says it's going to support Xbox 360 and Xbox One games.
Content will be Microsoft's vulnerability. The company will have to come up with more games for their console, since many of Sony's titles are exclusive to PlayStation. It's the only way to make Scorpio more than a revolutionary console – a part of fans' lives.