Huawei just finished their eagerly-awaited press conference in Paris. The P30 and P30 Pro have been announced and, as promised, they challenge the rules of mobile photography. (Rewriting them is a bit of a stretch, I think.)
The press event started with reactions of the Mate X, the foldable flagship device from Huawei that we saw behind a glass cage at Mobile World Congress. Quickly though, the teasing stopped and the videos made way for Huawei CEO, Richard Yu.
Yu talked about a new AI feature that will land on P30, called Track AI. It's Huawei's way to take "one step closer to a world without vision impairment". Huawei says it uses machine learning to understand patterns from the eyes' movements and make real-time assessments.
DISPLAY, BATTERY, COLORS
A small, teardrop notch for a symmetrical design and minimal bezels make for a beautiful, sleek front 6.1-inch display on the P30 phone. The Pro version is slightly bigger, having a 6.47-inch glass. The standard model boasts a 3,650 mAh battery, while the Pro will be fueled by a 4,200mAh cell.
A nice touch is the lack of holes for sound, Huawei opting for a new sound-emitting technology based on electromagnetic levitation. The edges are curved and the aspect ratio of both P30 and P30 Pro is 19.5:9 with HDR displays.
"Breathing Crystal" and "Amber Sunrise" are the new colors of the phones, the first inspired by the way the sky reflects in salt lakes. For those who appreciate monochromatic cases, you do have two other versions: Pearl White and elegant black and of course, the Aurora gradient.
But Huawei P30 is all about photography. Without further ado, here's what P30 Pro excels at.
CAMERA – STILLS AND VIDEO
P30 Pro boasts a Leica rear quad-camera with 40MP f1.6 OIS main camera, 20MP f2.2 ultra wide angle, 8MP f3.4 OIS square-ish periscope-style telephoto camera that offers 5x optical zoom, 10x hybrid zoom and 50x digital zoom. Finally, there's a ToF camera for depth-sensing which will serve your portrait shots best.
The entire reason behind their #rewritetherules campaign is the choice of a RYYB (red-yellow-yellow-blue) instead of the industry-standard RGGB sensor. Since the yellow sensors can absorb both red and green light, the P30 Pro camera is the first able to capture 40% more light, while also being 125% larger than the sensor on iPhone XS Max and Galaxy S10 Plus.
The ISO on this phone is absurd, going up to 409,600, almost four times bigger than the one on Canon 5D Mark IV, said Yu.
The P30 phone has a triple camera, made up of a 40MP main camera, a 16MP ultra wide lens and an 8MP OIS 3x optical zoom and 30x digital zoom telephoto lens.
The front camera is a 32MP lens with AI HDR +, a new, improved HDR mode which shows off all colors, shadows and highlights even against backlight. Quite the feat, right? This rear + front camera combo might be just the best on the smartphone market yet.
On the video side, you can zoom in up to 10x and still get pretty stable footage, thanks to dual OIS and AIS joining forces. The new feature for videographers is called Dual Video recording; basically, this means it shoots video from two cameras simultaneously, the main and the telephoto ones.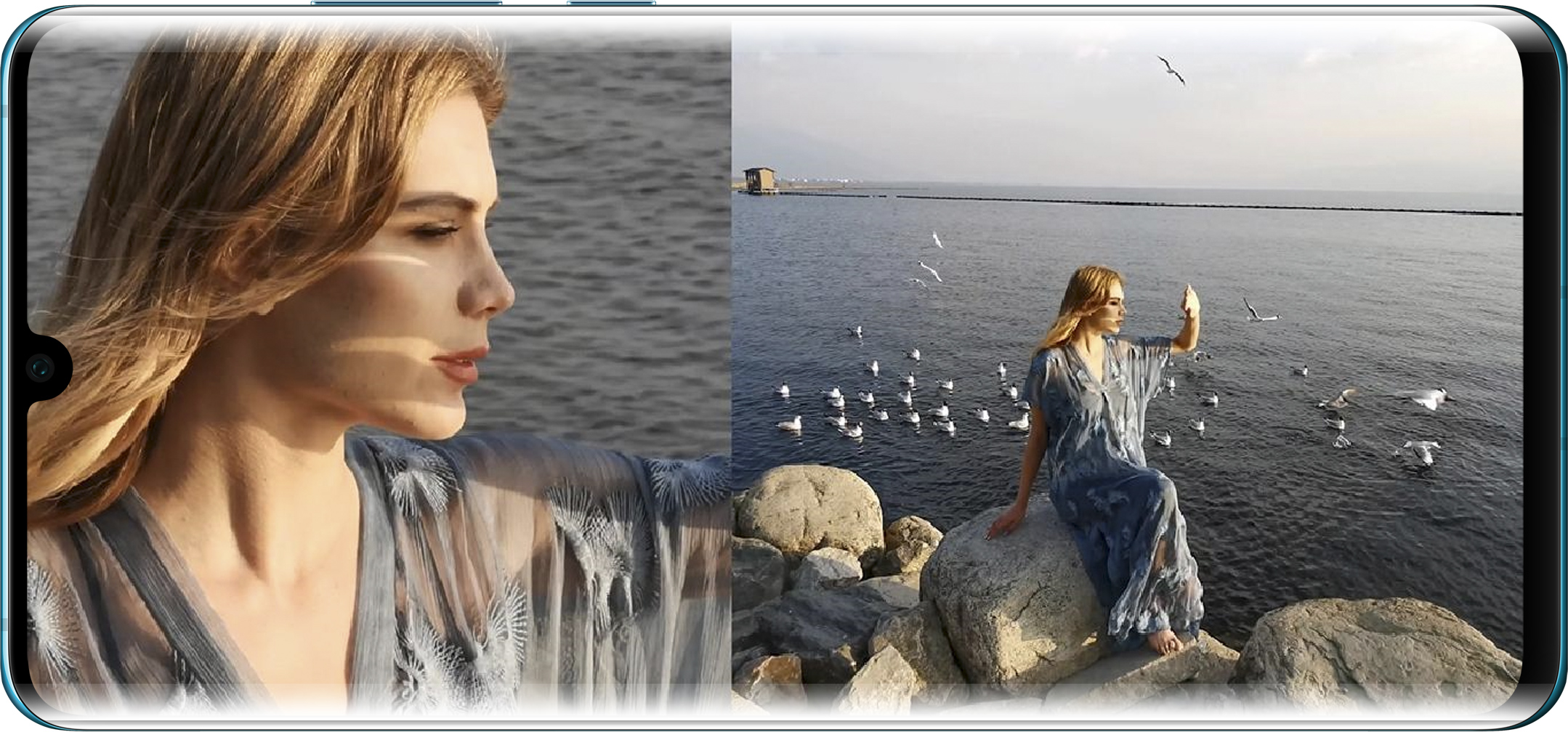 The P30 and P30 Pro are both powered by the Kirin 980 chip, are water-resistant and sport in-display fingerprint recognition, but the P30 still has a headphone jack, while the Pro doesn't.
This year, Huawei brings 40W Super Charge to P30 Pro and 15W wireless charging, besides the increasingly-popular reverse charge for a plethora of wireless charging products.
ONEHOP AND DIGITAL CAR KEY
An interesting new feature Huawei is enabling on its P30 phones is OneHop. This helps you send files from your phone to another Huawei device like a MateBook just by tapping the second device with your phone.
Want to use your phone for more than just photography, calls/texting and browsing? You can! The phones are able to act like Intelligent Digital Car Keys, starting your car and powering on your unique driver profile. Huawei has already partnered with Audi and the phone works with 7 different Audi models.
HUAWEI FREELACE AND FREEBUDS
Want to accessorize the P30 phone? Huawei has you covered with the 99 euro Freelace, a new set of neckbuds with flexible memory-metal cable and magnetic buds in four colors. The moment you disconnect them, you get a USB-C plug that can go in the charging port of a Huawei phone to give them juice or simply pair them.
If you can never go back to wired earbuds once you tried wireless ones, check out the 119 euro Huawei FreeBuds Lite. These earphones offer 12 hour battery life with battery case, are water and dust-resistant.
PRICE AND AVAILABILITY
So, will you need a loan to get the P30 Pro? Not necessarily. Yu just said the P30 Pro prices range from 999 euros (8GB RAM + 128 GB of storage) to 1249 euros (8GB RAM + 512 GB of storage). Should you choose the P30, you'll have to pay "only" 799 euros for the 6GB + 128GB of storage.