What's better than your classic Wayfarers? A pair that can do double duty; shield you from sun-rays and record video in the same time. All, thanks to Facebook's smart tech.
If that sounds a bit too close to home, it's because you've known about Facebook's unofficial muse for a while now, Snap's Spectacles. Indeed, Snap was the one to commercialize first sunglasses that can capture video. Therefore, Ray-Ban Stories, how the glasses made by Facebook and Ray-Ban are called, may seem like a copy-cat.
Ray-Ban Stories: Design and Specs
But they do have on their side a popular shape and name, which Spectacles lack. In fact, while the advertised Ray-Ban Stories model is a Wayfarer, they do come in two other shapes – Round and Meteor – and 20 different configurations, both with tinted and clear lenses.
Watch: This "First Person' Series Was Shot Entirely With Snapchat Spectacles
With the look out of the way, let's see the smarts they offer.
Although the arms of the sunglasses – where all tech is hidden when it comes to this type of wearables – are just slightly wider than normally, there's where you can find the goodies. In this case, the power button, recording button, a three-microphone array, two speakers, and a touch panel.
There isn't any waveguide or microprojector because, once again, this is a media capturing device, not an AR one.
The New Snap Spectacles Are A True Showcase of What AR Can Be
Nevertheless, the pair itself weighs just 5gr more than a normal pair of Wayfarers. Battery life is around 6 hours, which is the equivalent of an hour of audio, 30 minutes of calls, 10 photos and videos captured.
On the front, there are two 5MP cameras and a LED indicator to show when the video recording feature is enabled.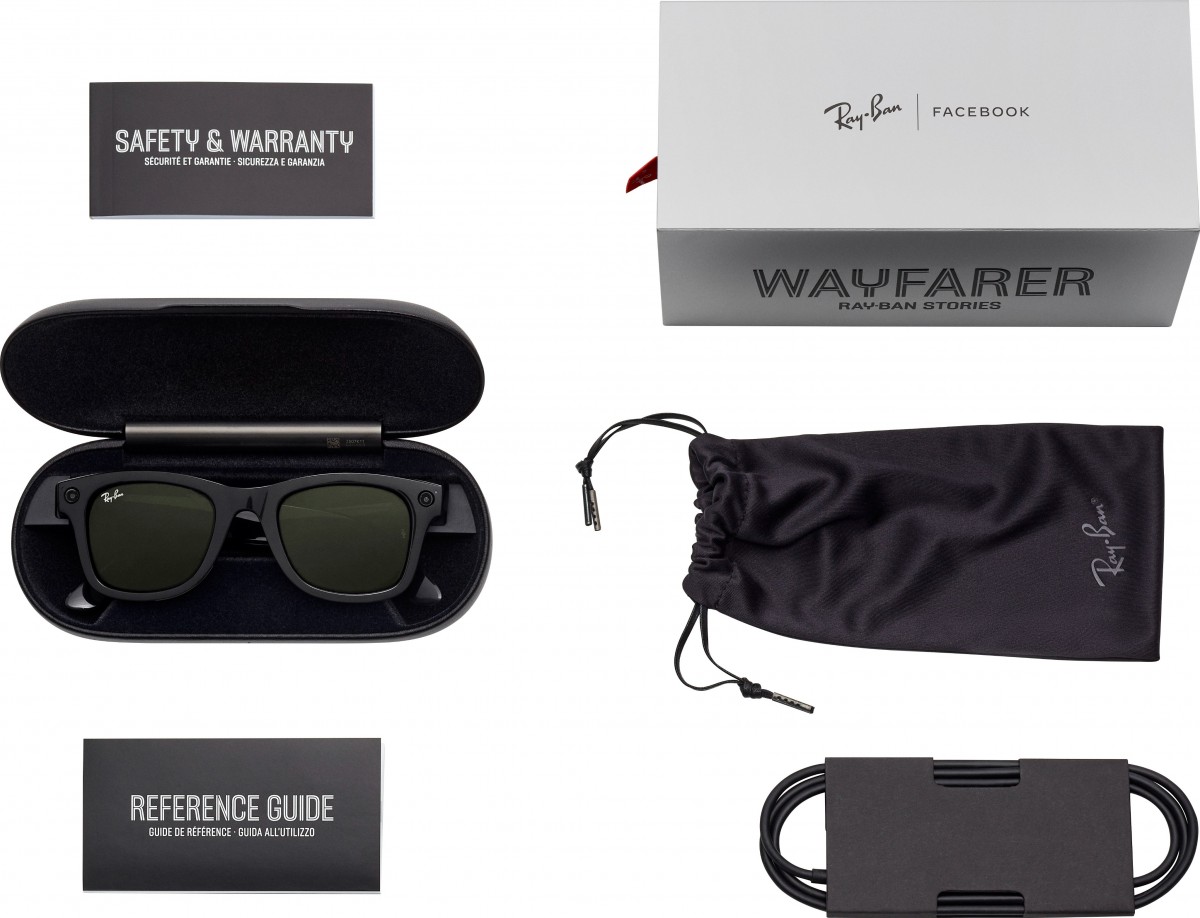 How to Record Video on Ray-Ban Stories
Recording video comes naturally on the glasses, if you've had a camera in your hands before. It takes a quick press of the recording button to start recording a 30-second video.
A long press will take a photo instead, followed by a shutter sound to indicate "objective accomplished".
That's not all; you can also proudly say "Hey Facebook" to activate either feature by voice command.
The video itself will be exported into Facebook's View app, as the smart glasses become temporarily a Wi-Fi hot spot. You can edit all the media you've captured in app and then share it to Facebook or Instagram or save it to camera roll.
How To Listen to Music on Ray-Ban Stories
Remember I said you had to tiny speakers hidden in the arms? They're there so you can listen to music from your phone. While that eats up a bit of your battery, it does make for competition for Huawei x Monster smart glasses.
All data captured is encrypted on device and, if you're worried about your privacy – it's Facebook we're talking here! – apparently only your battery status, Facebook login and Wi-Fi connection is monitored.
Ray-Ban Stories are on sale already and you can snatch one pair for $299.
League of Legends' Mother Company Goes After Snap Spectacles With Their Own Smart Glasses