Motorola Razr has been this fall's big phone surprise. Although the phone was leaked for a while, some of us were still skeptical – could Motorola revive the clamshell of old? Restore it to its former glory but also gain new fans, in the age of foldable phones and 5G? We think it did, especially after a leak revealed their intention to follow up with a second iteration.
The new Motorola Razr is still not out on the market, but there's a second iteration on its way to us. Most consumers will be able to get it early next year, after a late 2019 unveiling event. Before it could be unveiled this November, we shared our thoughts on its potential success and rivals in a Need to Know episode:
Afterwards, Razr made headlines for a while before giving way to Black Friday videos and holiday-related news. But Motorola broke a silence inadvertently after one of their patents was approved and the design leaked.
Titled "Foldable Phone with Side Sensors and Gesture Control", the patent is pretty explicit. There's a Razr version improved with sensors on the side and a gesture mode that we've previously seen at LG phones and Pixel 4.
The patent goes to explain the alterations, giving us an idea of how Motorola is thinking to not only translate the clamshell of the 2000s for today's user but for the consumer of the future:
It appears "a module implemented at least partially in hardware and configured to determine touch sensor physical proximity and to determine that the foldable device is in open mode (single sensor mode) or closed mode (cumulative sensor mode). Two sensors can be combined and mapped to one or more functionalities."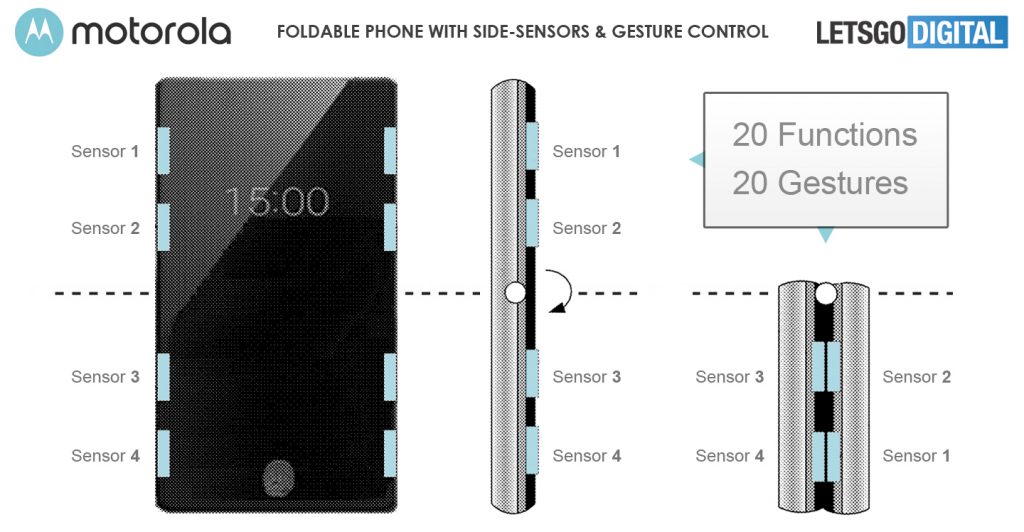 Fingerprint recognition is in the cards, though the sensor will probably be embedded in the display. Motorola is also going minimal with the rest of the device and its additions, ditching the physical buttons. Instead, the Razr 2 will be outfitted with pressure-sensitive ones that could be deactivated in closed mode so they're not triggered accidentally.
The phone will fold exactly in the center, and bezels will be nowhere to be seen. In fact, it will probably look very similar to the Samsung vertical foldable concept. However, is Samsung sells that device only in China, Motorola could have the upper hand in America and Europe.