GoPro's Hero 8 action camera and the Max 360 have had some photos released online via Photo Rumors. The photos were accompanies by a few bits of information concerning what we can expect from the devices. 
According to them, the Hero 8 will be capable of double the frame rate of the previous Hero camera and will be able of shooting in 4K at 60fps or even 480fps when shooting in HD. The leak mentions that the camera will also come with a new range of accessories but doesn't mention what they will be – it only says that we can expect to hear more about them in September.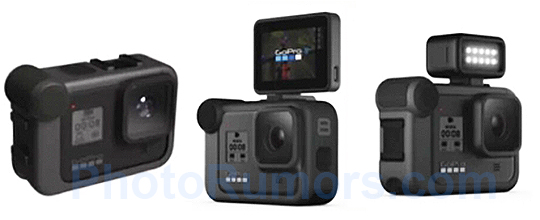 We can however, speculate that the camera will have a new mountable screen as well as an external LED flashlight and an external microphone. 
As far as what's going to happen under the hood, the Hero 8 will allegedly have an upgraded version of the GoPro SoC, dubbed the GP2, which will be responsible for image processing.
GoPro initially debuted its chipset, the GP1, alongside the GoPro Hero 6, in 2017.Considering how capable its predecessor was, we can only assume the new GP2 would come with improvements all-around, from color to digital zoom. 
The leak is not so clear on the GoPro Max however. We haven't heard a peep from the 360 since 2017 when the company released the GoPro Fusion 360. 
This leak comes just a short while after DJI announced its first action cam, the DJI Osmo Action. By all accounts, the Osmo Action performs admirably when compared to the Hero 7 and, while it still has some ground to cover, it's fair to say it's running quite close behind it. 
DJI, by the looks of it, is setting itself up as a worthy, upcoming rival to the yet unmatched GoPro; so it will be interesting to see what GoPro will bring to the table, considering it might finally be facing some solid competition. 
Of course, as always: take these leaks with a grain of salt.