[adrotate group="15″]
Wearable companies have been in a unique position since March of 2020. Suddenly, there was a new market need. For what? Face masks. Better yet, smart face masks. Smartwatches, fitness bands, and other wearable devices took second place to face masks, essential to a user's health once the COVID-19 virus spread.
The coronavirus pandemic prompted medical companies and individuals to work harder than ever to find resources and ideas to help with the N95 shortage and stop the fast spread of the virus.
Some turned to 3D printing as an affordable solution for masks, others redirected their engineering efforts towards smart masks, capable of not just keeping the user safe but of providing an experience that would incentivize them to wear it for a prolonged time comfortably.
Here are the smart masks that grabbed our attention due to a series of nifty features or a next-gen design.
This patent-pending mask is a complimentary device. It's meant to go over your normal, standard face mask. With what objective? Talk with foreign people without involving a translator.
The mask has wireless connectivity and can go with the other person's smartphone or a desk tablet. The speech is translated automatically on the device so the conversation partner can understand what you're saying. Right now, the C-FACE supports eight languages, translating English, Chinese, French, Korean, Indonesian Thai, Spanish and Vietnamese.
The mask should cost around €35 but there's also a monthly fee charged. Donut Robotics claim they see their device becoming even more versatile in the future, as part of AR/VR experiences.
One of the first companies to come out with a techy design of a face mask was Amazfit, back in May. Two variants were designed of Aeri, a lightweight mask that self-disinfects.
Besides your usual, replaceable filters, Amazfit Aeri is capable of being outfitted with more filters and sensors, including a ventilation fan 😮
But maybe the thing we loved most about it was the fact that it was a transparent design, which didn't just make it modern but showed the micro-expressions that count so much in face-to-face communication.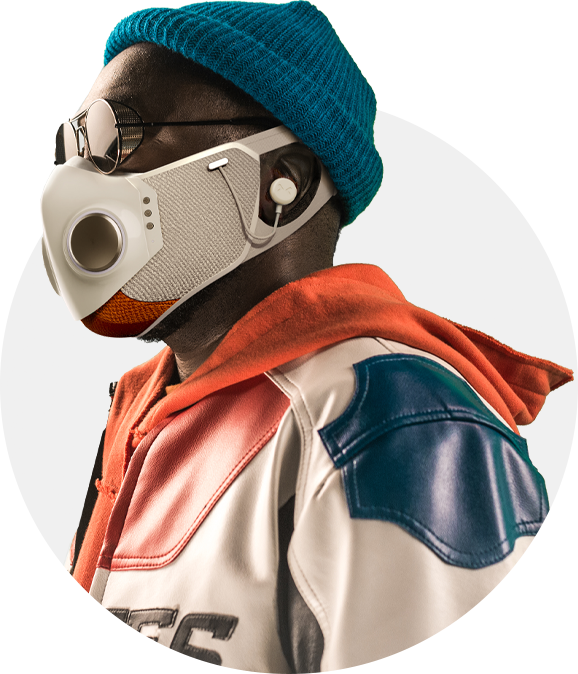 While vaccines are making the rounds and people are getting better at staying safe, the coronavirus is still on the loose. Face masks are still compulsory inside and in some countries, even outside. So Will.i.am's idea to partner with Honeywell and devise a smart mask is a pretty wise business move.
The result is Xupermask, a $299 mask that gives you post-apocalyptic vibes, either from movies or games. I say it's no wonder considering that it was created by Jose Fernandez, a Hollywood costume designer, who's worked on films including Black Panther and the X-Men movies.
Tech-wise, it comes with ANC headphones, has a mic and even LED lights on each side of your face. Health-wise, there should be zero concerns since it has fan-powered HEPA filters.
The mask itself is built from silicone and mesh, with an elastic strap for head adjustments. Xupermask lasts for 7 hours on a single charge and can be recharged with an USB-C cable.
On a fun (and weiiird) note, we present you Maskalike, a N95 respiratory mask that works with facial recognition software.
As we know, the most annoying thing that happened once we started wearing masks everywhere was that our phones didn't recognize us anymore.
In colder climates, that's a major headache, since you're likely to wear gloves too. So, Maskalike showed off your face by replicating your nose, mouth, chin and cheeks through a printing process.
By the way, if you're an iPhone user, you can finally unlock your phone with Face ID, while wearing a mask. But it won't work for all iPhones and users – here are the requirements:
Finally, Face ID Works Even With Face Masks on iPhones.. but There's a Trick
IFA 2020 approched and with it, consumer electronics giants like LG started rolling out home and health appliances. One of those was a pretty bulky, reminded-us-of-Bane face mask. All white, with two HEPA filters used in their home purifiers too and fans, it looked like a market-ready solution.
Of course, there's also a connectivity aspect to it, as the PuriCare mask connects to the ThinQ platform.
MIT and MilliporeSigma joined forces to discover individual's "actionable solutions for challenges presented by the Covid-19 pandemic." One of those turned out to be the Social Mask, a concept by Romanian Ciprian Burzo.
Transparent, like Amazfit's model, this mask is more accessible by the casual user since it can be realized through 3D printing. It's designed to detect viral particles as well as body temperature and, even, alert the user of COVID-19 infected people in its proximity.
This mask falls into the weirdest smart masks category. It's shaped like an egg, following the design lines of Daft Punk's iconic helmets.
The reason for that?
To show you're not following the status quo and keep people guessing. A Kickstarter project, it does include HEPA filters and could soon get accessories like voice modulators, Bluetooth connection and more.
AirPop Active+
A smart mask for those who miss the gym or like spending time in the outdoors is AirPop Active+ Smart Mask. It features AirPop's Halo sensor in order to detect and analyse user's breathing habits and filter quality.
The battery powering up the sensor can last up to six months. Meanwhile, you'll find out the lightweight, fabric mask transmits data to iOS and Android, being compative with Apple HealthKit.
We loved this smart mask's casual, athleisure look and the fact that it will become available to national retailers this year. However, the price is something to consider before going for it: $149.99, to be exact.
Razer joined the bandwagon this CES with a colorful, gamer-focused smart mask. In other words, very on-brand.
We appreciated the bold, glossy design, that's also translucent to let others see your facial expressions but much more than that, the ability of Project Hazel to project your voice through microphones and amplifiers.
However, Razer is not nearly ready to launch it on the market which begs the question: with the vaccine rolling out globally, will they manage to get it out in time?
Last but not least, a smart mask that doubles as a wearable audio system. MaskFone protects you from harmful particles while playing music or taking calls, with voice projection powered by the Hubble Connect app.
While not smart, the following face masks are still better than your regular drugstore buy.
The Henosis Mask is the world's first eco-friendly and fully compostable 3-ply facemask that uses responsibly sourced materials, produced and printed in the UK. Meanwhile, the Marie Bee Bloom mask turns into flowers after you throw it away. Seems impossible? Here is their secret.
What do you think: is any of these worth buying? And did we miss anything – other exciting smart mask you know about? Tell us in the comment section below!