While most of you are counting down the days to Christmas, here, at TechTheLead, there's a second countdown going on. Our team is crossing off the days until CES 2019, where instead of unwrapping gifts, we'll unveil the New Year's hottest phones, laptops, TVs, cameras, drones and more.
Is 2019 the year of 8K? Will tech giants finally release foldable phones? Will 5G open the door for smart fleets, autonomous cars thinking together as one, and reignite users' interest for VR and AR?
We've been digging for clues and this is what you can expect from the world's biggest consumer electronics show, taking place in Las Vegas, between Jan. 8- Jan.11.
LG
If you thought LG might not put on a show next year, think again. The tech titan will have one of the biggest spaces at the expo in 2019. For what, you may ask. It seems that the giant is once again going to dazzle us with (at least) 4K OLED TVs, if not the 8K monsters teased.
It is said that one of the models will show off mechanically sliding speakers that can dissolve the pesky black bars present at 21:9 aspect ratio movies. Moreover, the top-of-the-line TV will feature the next-gen Alpha 9 processor, enabling four-step noise reduction process.
Next, laptops. You can bet we'll see the lightest laptops from LG at CES, from the Gram series. The 17-inch thin laptop and its convertible brother will be there and we can't wait to see just how feather-like they are. You can read the LG Gram laptops specs here.
As for the foldable phone we were talking about… leakers like Evan Blass believe you shouldn't have high hopes for it. What will be on stage though, is the smart kitchen appliances the company is constantly developing. LG will unveil a beer-making machine (that you can read about here), smart refrigerators and dishwashers.
Samsung
LG's booth (understatement of the year, ahem) will only be rivaled by Samsung's corner. The South Korean company is rumored to offer similar devices in almost every category.
Expect 4K and 8K QLED TVs, big enough to cover your wall, the recently announced Notebook 9 Pen laptops (in detail, here) and even a 4K laptop to sweep us off our feet.
The mobile division remains Samsung's most appealing side, but the giant usually unveils the big guns during Mobile World Congress. We might get a glimpse of the Galaxy F – prototype version – though, with S10 postponed for the March event in Barcelona.
Panasonic
This year Panasonic celebrated its 100th Anniversary so their next CES appearance might not be as grand as the one hosted at the beginning of 2018. Nevertheless, the company is rumored to bring two babies on stage – the S1 and S1R full-frame mirrorless cameras.
Those two are set to have dual I.S. and dual card slot, while being able to shoot 4K@60p. There's a huge difference between the two models though; S1 will be equipped with a 24MP sensor, while its brother will don a 47MP one. Quite the catch, right?
Of course, the company will not let down TV users and will showcase their latest 4K OLED models.
Nissan
Cars will be a hot topic this January. Nissan is rumored to come with (at least one of) two models, the Leaf E-Plus and the racing version, Nismo RC. We'll definitely pass by their booth, since the first one is rumored to not just be a step up in terms of battery (60kWh) but also cooling technologies during fast charge.
The silver/black racing Nissan isn't just a good lookin' car but a fierce one, going from 0-62 miles per hour in a mere 3.4 seconds! Find what they can do here.
It wouldn't be a tech show without smart cars and in-car entertainment, though. While Nissan focused on electric cars, Audi looked inward and prepared a cinematic experience with Disney. From what they've teased, it sounds like we're going to a drive-in movie theater. Prepare your popcorn!
Bosch
CES is the perfect time to track trends and spot concepts that will become reality. With that in mind, our advice is to keep your eyes open for Bosch' self-driving shuttle. The pod should make an appearance in Vegas and we'll definitely check to see if it could be phone-controlled, like they're planning to do.
Razer
Thought you've seen everything from Razer this end of year? Not at all! The company has been pretty busy, I'll admit, what with the Phone 2 launch and the two new gaming laptops released in October.
Yet, they're ready to show off new products at CES, two of which are the Xbox One dedicated mouse and keyboard, spotted here.
How do they stand out? What is the price and when will they be up for order? We'll find out this and more in less than a month.
Canon
CES might not be as camera-centric as Photokina but don't fret – camera companies will bring their best to the show. Rumor is Canon is going to unveil the PowerShot G7 X Mark III. This camera has been all the talk this fall and with new pictures leaked online, it seems its moment to shine will be in Vegas.
Sennheiser
Sennheiser rarely disappoints and this CES won't be an exception. Their latest endeavor involves, surprisingly perhaps, mixed reality. The Ambeo AR One are meant for Magic Leap experiences. Definitely interesting, but really necessary? We'll have to see ourselves.
Drones, drones, drones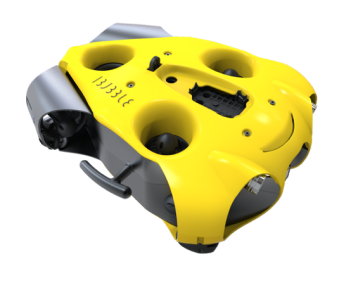 One thing will definitely be buzzing at CES: drones! We'll see some interesting underwater drones from Notilo and Geneinno and racing models that get tinier by the year from Uvify.
We, robots
Robots are here to stay. Either as assistants like President Putin's friend Promobot, or as fascinating humanoids like Alan & Alena from Robomodix, or even as cute educational bots such as those from UBtech. We'll meet them all and more in January.
Me, myself and I
Last but not least, I believe we'll see lots of products focused on helping us be in control of our health and enhance our well-being. There will be wearables dedicated to sleeping better from Dreem, like a headband with bone conduction technology and eating appropriately for your body like the DNA Nudge set. The cartridge, box and smartphone combo supposedly helps you choose the right groceries for your based on your genetics.
We can't wait to see how technology can take our lives to the next level this January! Follow our exclusive interviews and livestreams from CES 2019 on our
Instagram, 🐤Twitter and 👍Facebook !